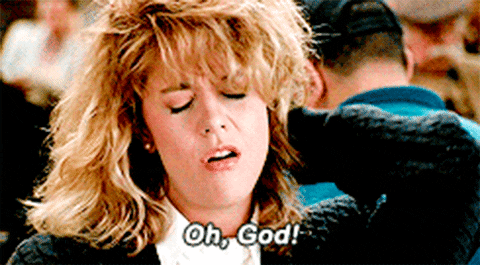 I'm pretty sure Meg had a Satisfyer hidden under the table
O

kay, so this is supposed to be a guest review but I do have input of my own, so I'm going to butt in
. Satisfyer very kindly sent me three different models of their renowned toy, so I kept one for myself and passed two on to a helpful chum. The model I tried was the
Pro 2
:
I have to say, I struggled with this thing. Firstly, it looks nothing like any vibrator I've ever seen before – more like a face cleaner than a sex toy. Second, it relies on creating a vacuum in order to give the best effect. Which sounds simple enough – after all, ladybits are soft and squishy, right – unless, like me,
you have metal bits in your fanjita
. It turns out that having a metal bar down there – however dainty – means the sucky bit can't suck.
This doesn't mean that it doesn't work tho – farrrrrr from it. Despite the fact that I couldn't make it do precisely what it's supposed to, the Pro 2 still absolutely achieves the desired effect. It's almost as though one had pressed a button labelled 'Instant Ooh, Press Here For Immediate Satisfaction', delivering unarguable results quite literally within seconds. Okay, maybe two minutes, max. WHICH IS DOWNRIGHT BLOODY WEIRD.
Seriously, I never thought I'd ever complain about a sex toy being too efficient, but this thing is insane. You have no choice in the matter – switch the not-a-face-brush on, apply it to your happy place, turn into squirming squeaking puddle in the time it takes to think 'Ooh I hope the neighbours can't hear me right now'.
Where's the build up? The antici…..pation?
Basically, when you put such efficiency together with unarguably weird looks, it's more a tool for scratching an urgent itch than an instrument of pleasure for an afternoon's fun. And it looks like my guest reviewer had a similar experience with the other models. Over to her…
***
Satisfyer PRO Penguin
The Penguin looks cute and undaunting with its bright cheerful pink hue and small size. It sits nicely in the palm of your hand and has a nice weight to it that feels classy. Its comfortable to hold, but – and maybe it's just me – the head is at a bit of an odd angle in order to make 'good contact'. I found sitting or crouching (not that sexy tbh) were the best ways to use it in order for it to be in the right spot.
Satisfyer 2
It looks like a hairdryer my Nan owned in the early seventies. Visually it's a bit naff to be honest and it feels cheap when you hold it. Unlike the Penguin, the Satisfyer 2 has the power buttons on the back of the handle which I found harder to contend with but you have more control over your power settings which go up to 11 on both toys. (I only managed up to 5 on each and that was plenty!)
Both products claim 'enables multiple and incredibly intense orgasms within minutes.'
Well, yep, it does exactly what it says it does! I am not a fan of intense clitoris stimulation – ordinarily I'm a penetration over clit action girl every time. I just find too much attention feels uncomfortable and bloody irritating! I did wonder whether this was the right kind of toy for me to try and imagined me flinging it across the room with intense irritation at the first buzz. BUT THESE TOYS ROCK!!! If you want to get off in a matter of minutes (or seconds in my case) then this a toy well worth investing in. I would say that if you left the nozzle in contact you could obtain a pretty intense, long long lasting multiple orgasms. However my sensitive lady parts could only take it for a short while (less than 2 minutes!) so I couldn't comment.
The Satisfyer 2 has a better angled nozzle for comfortable use and 'vacuum and massage' function is definitely superior to the Penguin. Neither of these products are quiet to use – they are quieter when in contact with the clitoris but still revealingly noisy in the peace of the night. I will be using both again, when I am home alone and have 30 seconds to spare – honestly that's all it takes!!!
I would recommend either product – and the Penguin is the more fun-looking of the two – but if I had to chose a favourite purely on function it would be the Satisfyer 2.
The Satisfyer 2 costs £49.95 –

click to view
The Satisfyer Pro 2 costs £59.95 –

click to view
The Satisfyer Penguin costs £59.95 –

click to view
(all links open in new tab)
So there we have it – these things work, to a freakishly efficient extent. Which is not something I say lightly (or indeed, very often). Are you feeling brave enough?
Violet
CLICK HERE TO FOLLOW SEX, DEATH, ROCK'N'ROLL ON FACEBOOK
I am sent items free of charge for review purposes but I am not paid for reviews and my opinions / those of my reviewers will always be honest (in fact if I really hate something it's more likely that I just won't review it at all and will go back to the manufacturer and ask them WTF they were thinking). I sometimes get a (very) small commission from purchases made from links on SDRR, which goes towards site costs. I adhere to all advertising rules and always use 'no follow' links where appropriate.